Howdy there, WWRP. This is my first post on the forums that would be considered Off-Topic.
I am here today to give a brief rundown and what to look for in a microphone. My background is pretty simple: I work in the musical instrument and professional audio retail industry. I have assisted many in this server with sound troubleshooting as well as seeking the best microphone for their voice and budget.
Not a whole lot of people really understand how microphones really work and even less understand terminology behind audio equipment. I am here to help you.
Definitions
I will start this off with some brief terminology that will help you understand some common things when you are looking to help your sound:
Acoustics: This word essentially means the area in which you are speaking and how the sound travels around it.


Clipping: This occurs when you are overloading the circuitry of the microphone. To put it plainly, clipping is when you are talking REALLY LOUD and your microphone sounds like a toaster (think a public Garry's Mod RP server... if you know, you know).


Active Microphone: These style microphones require +48v of phantom power from either a mixer or an audio interface. These microphones are typically tube driven or at the very least, emulate a tube microphone which gives it a warmer sound that plays well with deep voices.


Passive Microphones: These microphones do not require any sort of phantom power. Typically, plug and play into any mixer or interface.


Phantom Power: You know that +48v button you find on your interface? This is that. It supplies power to active microphones.


Compressor: These items are used to limit sounds that go over a decibel reading (this means no clipping )


Noise Gate: This is used to block out background noise such as an air conditioner or a loud mechanical keyboard in your room. You would set up a threshold and any noise that does not meet that threshold will not pass through the microphone.


Plosive: You know when someone pronounces T's, P's, and S's? It makes that pop sound usually? Yeah, that's a plosive.


Capsule: A part of a microphone that captures the sound.
For those that are curious, you can look at this
weblink
for more terminology.
Microphone Suggestions
Next, lets go over some microphones. At work, when I am dealing with customers who are interested in products I will typically come up with three different items. Best, Good, and then a budget friendly variation. I will use that same format here:
BEST:
Shure SM7B Dynamic Cardioid Studio Vocal Microphone
- This is a dynamic microphone meaning that you do not need to utilize phantom power. That being said, it does require a bit of gain for it to get the full experience. You can siimply use a cloud lifter to help with that or if your interface/mixer can supply enough, that'll work too. Anyways, this is the industry standard in most broadcast stations, podcasts, and even in the studio for musicians.
GOOD:
Warm Audio WA47JR Large-Diaphragm Condenser Microphone
- An active microphone that requires phantom power. I personally use this microphone and love it to death. It has three different polar patterns to play with (I will go into detail about polar patterns) and a decibel pad for those who want to absolutely scream their brains out (like me).
BUDGET:
Rode PodMic Cardioid Dynamic Podcast Microphone
- This is a popular microphone in the recent times of being locked inside our doors (2020 amirite?). A passive microphone that is plug and play into any mixer/interface. The sound quality is fantastic for the price and I have personally sold and used one of these bad puppies in the past.
(Notice I did not list the Yeti... please avoid the use of the yeti, they are no fun and turn into doo doo fast)
Some Accessories to keep in mind when building a microphone set up:
You want to have the most comfortable-for-you setup. Typically having an external XLR microphone means having something sit in front of your face during the duration of your gameplay. You also want to ensure that you sound crisp and clear.
The GoXLR: I use this bad mama-pajama myself and wowzers it is a game changer. Popular with the streaming community, this thing has it all. Audio Channels, Mic Preamp, Sample Pad, Voice Effects, XLR In with phantom power, 3.5mm headset capabilities, compression, noise gate, and a nice equalizer.


Boom Arms: These will typically clamp onto the side of your desk and allow you to mount your microphone and shockmount to it. Typically they have a spring assembly that supports the weight, and are foldable.


Pop Filters: You know those circular things that sit in front of microphones? Those are pop filters. They are used to help with dampening plosives.
What the hell is a polar pattern?
This is where we get a little science-y with microphones. Polar patterns are the shape in which a microphone can catch a sound. I really do not know how else to describe it, so enjoy this image I ripped from google.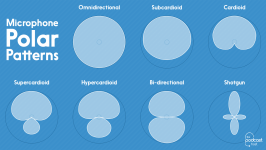 ​
The only polar pattern you will ever deal with when it comes to VOIP is typically the Cardiod pattern (lol it looks like a butt!). To know where the shape lies on your microphone depends on where the capsule is facing. For instance, the SM7B linked above has a capsule that captures sound from the top of it while the Warm Audio WA47JR has a side mounted capsule. It is important to know where this is so you know how to set up your microphone in a comfortable and optimal position.
That is about all I have for right now, I can update this guide later on with extra information. If you have any questions, you can simply DM me here, or just simply reply! Ok! I'm going to drink more coffee before work now! Bye! Love you!