Frisky Two Times
Whitelisted
Gold Supporter
Retired Staff
So you want to make your RedM experience a bit more colourful, or dramatic, or sharper? Or perhaps you want to make it a combination of all of the above. Well have I got good news for you, because that's where ReShade comes in! Taken from ReShade's own website, "ReShade is a generic post-processing injector for games and video software developed by crosire. Imagine your favorite game with ambient occlusion, real depth of field effects, color correction and more…"

What this all means is that with a variety of options you can make games, including RedM, look better than they already do.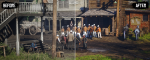 Installing ReShade to RedM...
Go to https://reshade.me/ and download the latest ReShade version using the download button at the bottom of the homepage.



Run the ReShade setup file (it will be a .exe file).




Using the "Click here to select a game…" button, point ReShade to RedM.exe, usually located within C:\Users\[YOUR USERNAME]\AppData\Local\RedM.
Note: Do not point ReShade to your RedM Application Data folder, or a RedM.exe shortcut. These will not work. Similarly, simply pointing ReShade to your RDR2.exe file, for regular Red Dead Redemption 2, will not work.



You will be prompted to select the rendering API used by your game. Your selection here will depend on the API you have chosen within the game settings.





Next, you will be prompted to select the Effect Packages you wish to install. In my case many of these did not work, but to save on time testing I simply opted to Uncheck All, then Check All - marking them all to be installed.




As each Effect Package installs, you will be prompted to select the effects within each package that you wish to install. Again, I opted to install all of them.
Note: You will be prompted several times. This is simply the installer going through each Effect Package.



One you are prompted to Edit ReShade Settings you have successfully installed ReShade to RedM - as shown by the "ReShade Setup was successful!" at the top of the window.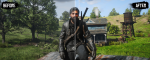 Installing & Using my ReShade Preset…
Download CN_ColorfulRoleplay_1.ini.


Drag CN_ColorfulRoleplay_1.ini into your RedM directory.
Note: This file does not go into your RedM Application Folder. Your RedM directory is the same place that RedM.exe is located.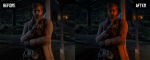 Customising ReShade for You…
There are a lot of different options within ReShade, and given my… ehem… clunky install process, there's going to be plenty of them that simply don't work. The most simple options to play with for first-time users will be things like Colorfulness and Vibrance - both of which can be found by using the search bar at the top of the ReShade menu.




As you enable different effects, their individual options will display at the bottom of the ReShade Menu, all of which are collapsable. All tweaked through sliders and numbers, there's a fair possibility that you will find yourself spending hours tweaking various effects to make things look exactly how you want them to.


I've
uploaded higher-res before and after images to Imgur
for anyone wanting a better look at what this ReShade preset will do to your game.
Which API should I use?
Based on my own testing and some testing from folks here in the Wild West RP Community, I'd suggest using the Vulkan API in order to get the smoothest RedM x ReShade experience. In the majority of cases a Vulkan install works right away, where many of the DirectX and OpenGL installs may require files to be renamed, and things like Steam and Discord overlays to be disabled.
Note: Some players, myself included, have experienced a bug during character creation where the game will crash while scrolling through beards. My current work-around for this is to create a character without a beard, and then go straight to a barber upon spawning in as the barbershop menu does not cause this crash to occur.

Using DirectX
A lot of the troubleshooting steps that I'm using for RedM are based entirely on those used for FiveM; meaning that some work and some don't.

Having installed ReShade using a DirectX API, you will find some additional files inside of your RedM directory.
- Rename dxgi.dll to d3d12.dll
- Disable your in-game Steam Overlay (if enabled)
- Disable your in-game Discord Overlay (if enabled)

I can't guarantee that this method will work for DX12 users. As mentioned previously, I strongly suggest using the Vulkan API as it seems to work much more smoothly. Feel free to reach out to me directly if you need further help!
I know my preset is super vibrant, but honestly that's a look that I adore! I'd love to see screenshots from your own presets if you make any!

Enjoy!
Last edited: