(Scarlet Traveling the Roads with her Father)
Scarlet and her father started their travels in Florida, exchanging in goods and doing odd jobs on the side. They lived out of a big Caravan for the first couple of years in the States.
Scarlet loved the outdoors and getting lost within it. Her father had his hands full with a child who was filled with wonder and curiousity. Her knack for exploring had gotten her in trouble from time to time.
When she was 9, she was currently staying in a town that was settled near the swamps.
Her father was currently working a side job, repairing the dilapidated Church.
Scarlet was suppose to stay at the caravan and tend to her daily chores but curiosity got the best of her. Following a stray cat that caught her attention, she soon found herself lost in the swamps. When her Father returned home that night, he noticed right away she was missing. He easily followed her trail and found a bloodied Scarlet huddled under a tree crying and shaking.
Her father immediately looked her over for injuries but none could be found.
Clutching tightly in her hand was a sharp rock, covered in blood and next to her was the corpse of a small Coyote with a cat dead in its mouth.
Scarlet sobbed out how she tried to save the Cat from the Coyote's clutches but it was too late. So she angrily attacked and killed the Coyote for what it did.
A side of her was shown that night. The side she inherited from her Mother that even her father wasnt aware of. One that caused her Father worry when he listened to her story.
Her vengeful rage. But to young Scarlet, she felt what she did was Just.
She felt like she avenged the cat.
Scarlet never talked about the incident again and neither did her Father.
When she was 10, they traveled North, finding themselves in the Carolinas.
In a small developing town, they settled their roots. Moving into a small cabin nestled in the woods. Martin found a job similar to what he did prior to Scarlets birth.
Taking grain, goods, and supplies to neighboring towns across the county.
Scarlet was happy here. She grew close to many folks, helping out those in need and assisting her father with his work as well.
Scarlet was taught by a retired Professor named Alfred Marks, who moved in the town years prior to her arrival with his wife Sarah Marks. He gave her books, explained the unexplained and peaked her curiousity for the world around her. His wife taught Scarlet how to cook and identify plants you can find in the the wild. Scarlet also took an interest in Mrs. Mark's fancier fashion that she wore. The older lady showed her magazines from New york, where the old couple use to live. Scarlet was surprised to see a world filled fancy dressed folks like Mrs. Mark and dreamed of days where she could be dressed just as elegantly.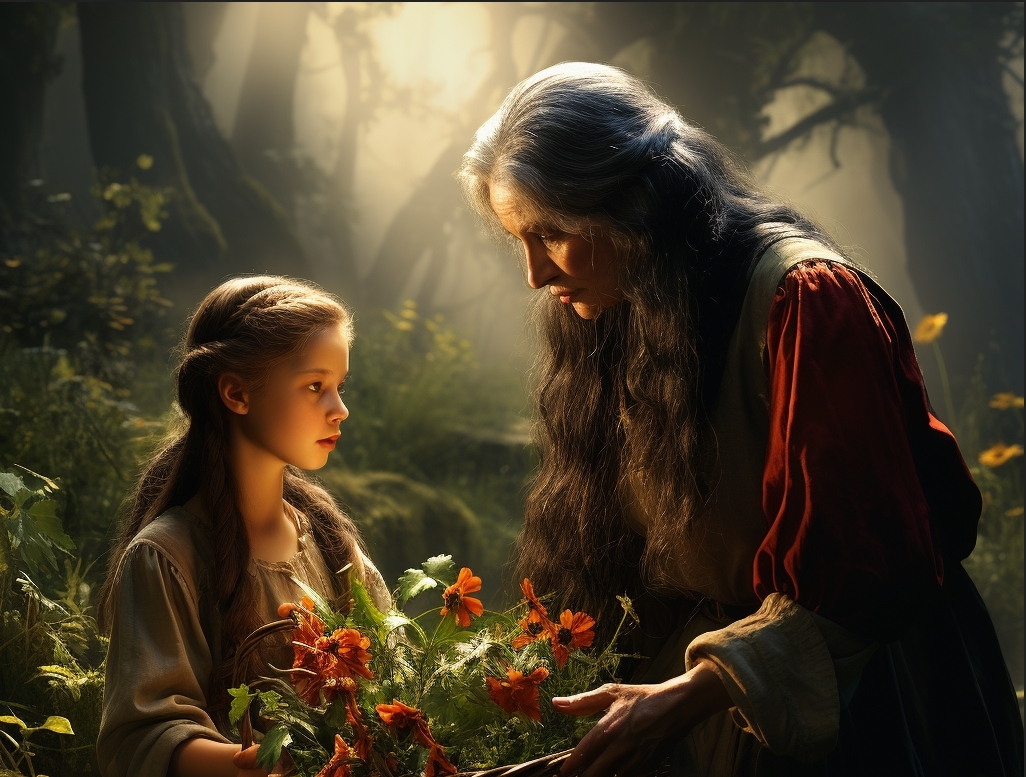 (Scarlet gathering flowers with Mrs. Marks)
The old couple took care of her like she was one of their own whenever her Father was busy or away on delivery jobs. They were the Grandparents she never had and was always quick to run off to their cottage to see them. Martin was delighted his child was settling well. Scarlet flourished and her life felt complete.
But life has a funny way of turning things upside down in an instant